Rafael Baez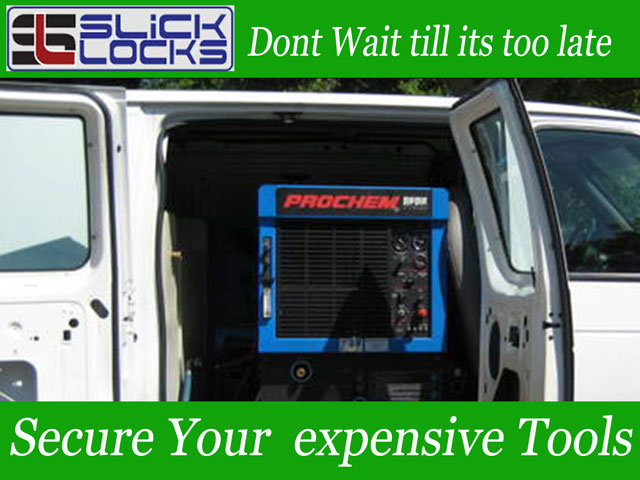 Security Locks for your service van or truck, it's what's on every service truck and van owners mind around the world. Some owners have been victimized, and some know of others who have become victims of expensive tool and equipment theft. The feeling of having all your equipment and tools stolen is a horrible feeling, it make you angry, frustrated, and makes you feel vulnerable because once it's gone, it's gone. The chances of you recovering your tools from an arrest are slim to none. I know I've been there.
The loss could be from $1000.00 to $100,000.00 dollars, depending on what trade you're in. Having your tools stolen is a big loss, not only do you have to buy all your tools again if you even have the money to buy some or all back, you lose on jobs in the meantime while you are trying to buy your tools again. About 20 years ago I became that victim, woke up early on a Monday morning to go to my 1st job for the day, walk to my work van with my coffee in hand, got in, and went straight to the job site. Once I got to my job site I open the side door to grab my tools and walah! Surprise, all my tools were gone, my heart just sank like the titanic. I was shocked! I couldn't understand how my tools were all gone.
That was back in mid 80's when car alarms were useless and still useless today. Several years later someone came up with a hockey puck round lock and 2 heavy brackets to secure your tools, but required you to drill 8 holes per side of the van or work truck. The final results were a very good way to secure your tools back then. It just looked ugly and bulky, but it was a solution, and it helped many business owners. However, soon after  things did not look so good, the holes that were drilled to mount the brackets were starting to rust, and getting worse as time went on to the point after several years, rust was so bad that you could rip the brackets off the door with a crowbar.
There is a family owned and operated business called Slick Lock Corporation from the suburbs of Chicago IL. Slick lock came out with a clever designed locking system that doesn't require drilling holes into the vehicle. They designed brackets that mount on the existing van latch and strike side location for rear and side doors, and even sliding doors. Because the installation doesn't require any modification to the door, Slick Lock has become the choice for business owners, fleet services, and self-employed tradesman around the world.
Slick Lock is a must have for business owners Without a doubt. Slick Lock is the best locking system solution hands down to protect tools and equipment.